Gorgeous
"Such a bold, clean design. There is nothing else like it. Hands down the most beautiful mailbox in the neighborhood."
-Zachary S.
Reviews
Post Mount Locking Mailbox | Small
$149.99 $114.9924% OFF
Adoorn's lockable, weatherproof Post Mount -Small mailbox keeps your mail secure. It's simple for mail carriers to use & easy for you to access using your key. Choose from a variety of colors to add a unique pop to your home.
External Dims: 12" H  x 12" L x 18.5" D

Free Shipping

Happiness Guarantee
Pick Your Color
BLACK, WHITE, and BLUE SHIP NEXT WEEK. GREEN IN 3-4 WEEKS DUE TO EXTREME DEMAND.
You May Also Like
Gorgeous
"Such a bold, clean design. There is nothing else like it. Hands down the most beautiful mailbox in the neighborhood."
-Zachary S.
Mail & Package
Secure Lock

Weatherproof
Spacious Capacity
Secure + protect your valuable mail
Prevent identity theft, mail theft, and package theft with adoorn's locking mailboxes. They're easily accessed by your mail carriers and delivery drivers yet keep out unwanted weather and sticky fingers.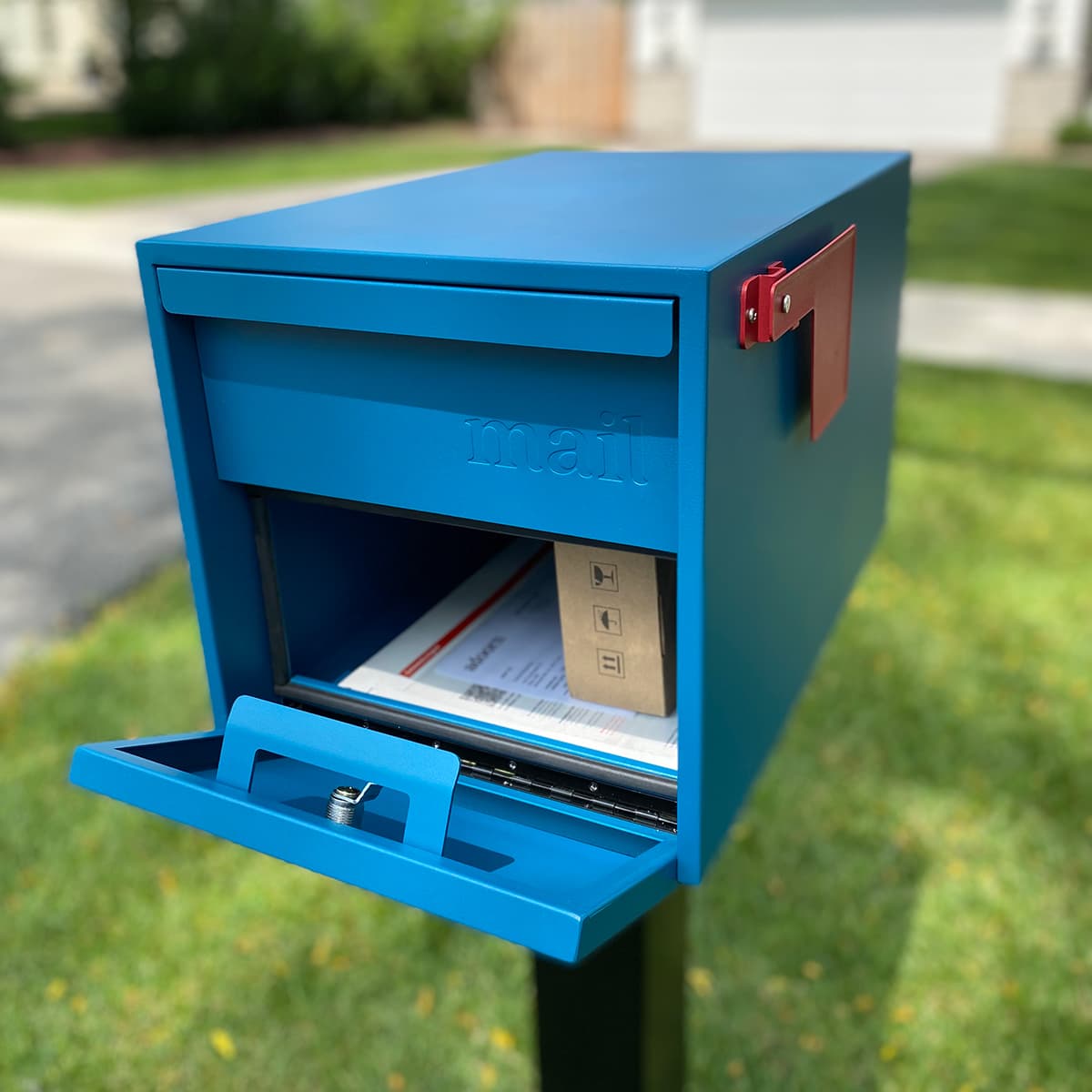 Large Capacity Receives Mail + Packages
Spacious capacity allows for all your mail, envelope & poly-bag style package deliveries up to 13" x 12" x 2".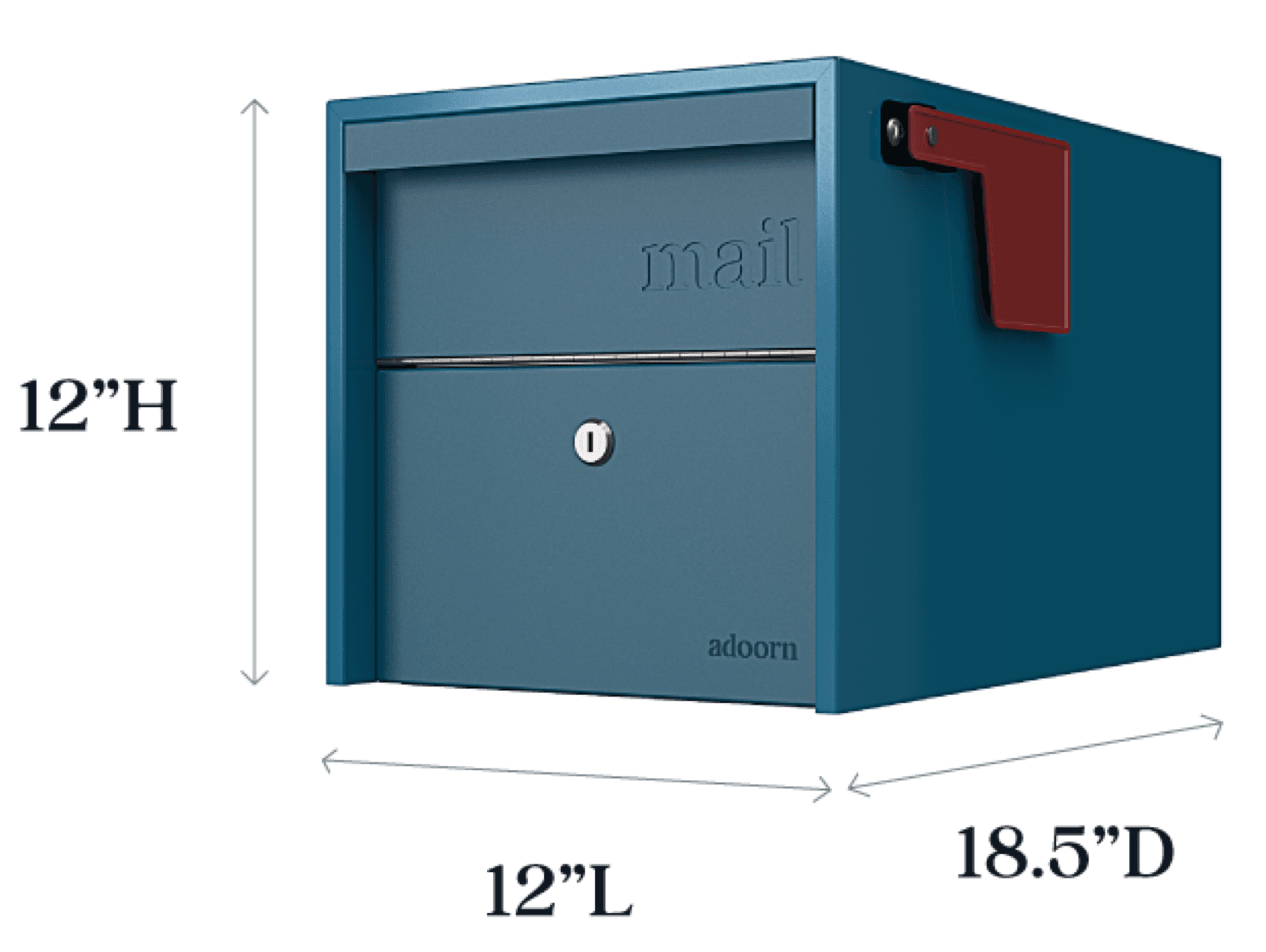 Put a smile on the face of your home
Designed to look great, every adoorn mailbox comes in a range of eye-catching colors that add flair to an otherwise overlooked aspect of your home's exterior.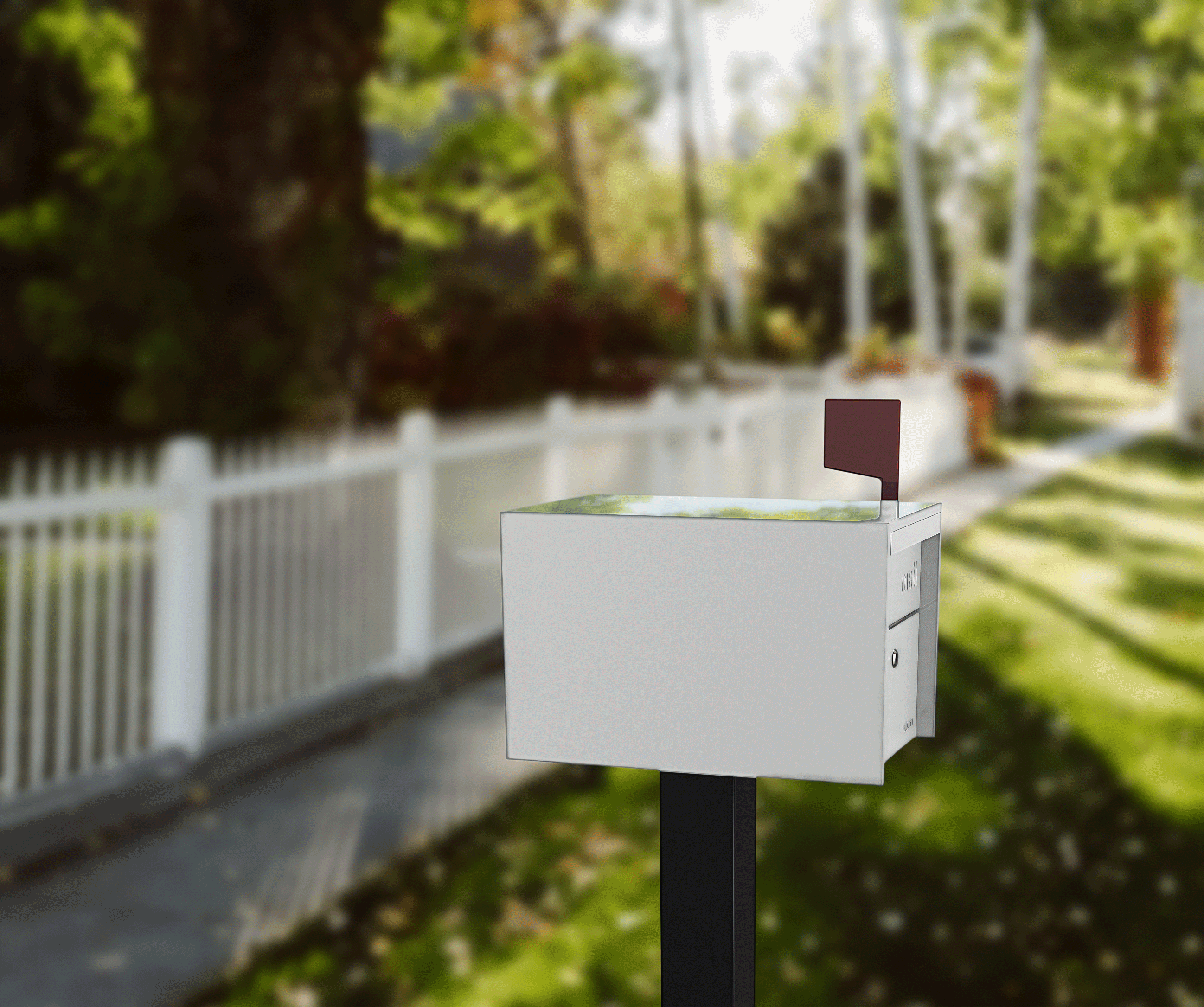 features & specs
External Dimensions: 12" H x 12" L x 18.5" D
Large Capacity is sized to receive and store 2-3 days of mail.
Meets USPS Requirements
max package size 16" x 10" x 2"
Weatherproof + Built to Last
Heavy-duty galvanized steel construction, stainless steel hinges and rust & scratch resistant powder coat finish. Internal weatherproof stripping & sealing magnets keep out rain and snow.
Secure, Anti-Pry Lock & Key
Anti-pry latch lock mechanism deters leveraged entry and anti-fishing panel keeps sticky-fingers out and delivered items safe inside. Outdoor-rated, commercial grade lock. Includes 2 keys.
Large Capacity for Mail + Packages
Sized to receive mail, envelopes & poly-bag style packages up to 16" x 10" x 2" while preventing fishing.
Fully Assembled & Easy Mount
Ships fully assembled with hardware needed for quick & easy mounting.
Conceal Outgoing Mail
Includes optional outgoing mail flag & concealed outgoing mail clip for added protection.
why choose adoorn
Receive Mail & Packages
Large capacity design, allows for delivery of mail & packages.
Protect your Deliveries
Our locking mailboxes keep your valuable mail safe
Weatherproof
Keep your mail + packages dry from rain + snow
Built to Last
Rustproof, heavy-duty steel construction so your box lasts for years to come
Compare Post Mount Models
How It Works
Mail people and delivery drivers simply open the top door and place deliveries inside
When the door shuts, mail and packages fall into secure location
Retrieve your deliveries by using your key whenever you want to get them
FAQ
Q. What are the dimensions of the small post mount mailbox?
The product is 12" H x 12" L x 18.5" D.
Q. What is the maximum size package that can fit in the mailbox?
The largest size package that can fit inside is 16" x 10" x 2". And, approximately 2-3 days of mail can be stored inside.
Q. How do I install the small post mount mailbox?
It's easy! It can be installed into an Adoorn post or any standard metal or wood mailbox post. Installation hardware and easy-to-follow instructions come with the product. Our instructions include guidelines for height and set back requirements at your curb, but please contact your local post office if you have any questions!
Q. Can I get a replacement key if I lose mine?
Each mailbox lock comes with a unique identification code to your specific mailbox. If you lose your key, just send us an email to hello@adoorn.com to order a replacement.
Q. Can I use the mailbox with any carrier (USPS, Amazon, UPS, FedEx, etc.)?
Yes! Our mailboxes abide by USPS regulations. You can also include delivery instructions for UPS, Amazon & FedEx to place deliveries in your mailbox.