Where do People Place their Lockable Package Box?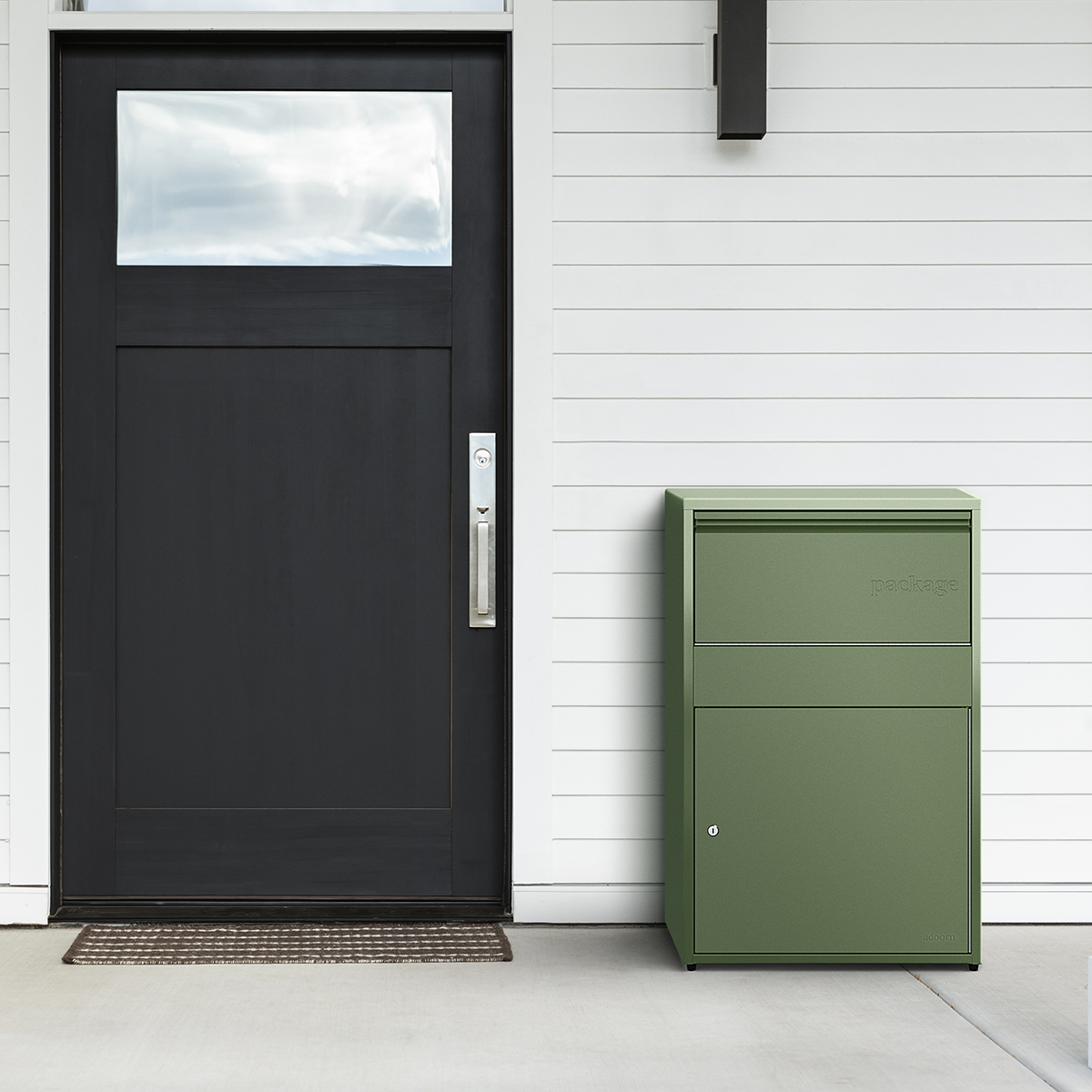 As Americans ramp up their package deliveries and become increasingly more dependent on online shopping, we see the emerging popularity of the lockable package box to help protect home and business deliveries from theft, weather, and spoilage.
But as these package delivery boxes have to be large enough to hold multiple boxes, a question that arises is: Where do I put it? We take a closer look at some of the places owners of these boxes have decided to place them here.
The Porch
This is an obvious choice, which doesn't make it a bad one. In fact that's why it is such a strong option. This is the first place delivery personnel go when dropping off a package so they'll find the lock box with ease.
Depending on the size of the porch, the safe can sit right next to the door, either perpendicular or parallel to the house making it easy for the homeowner to grab their stuff without even having to put on a pair of shoes.
With larger porches featuring furniture or plants, there are more placement options that could suit your house's appearance and work in harmony with the decor. In these situations, it is important to pick a porch delivery box like the Adoorn Modern Mailbox or Modern Package Box that are nice-looking and feature clean lines and colors that match the personality to your home.
Side of the House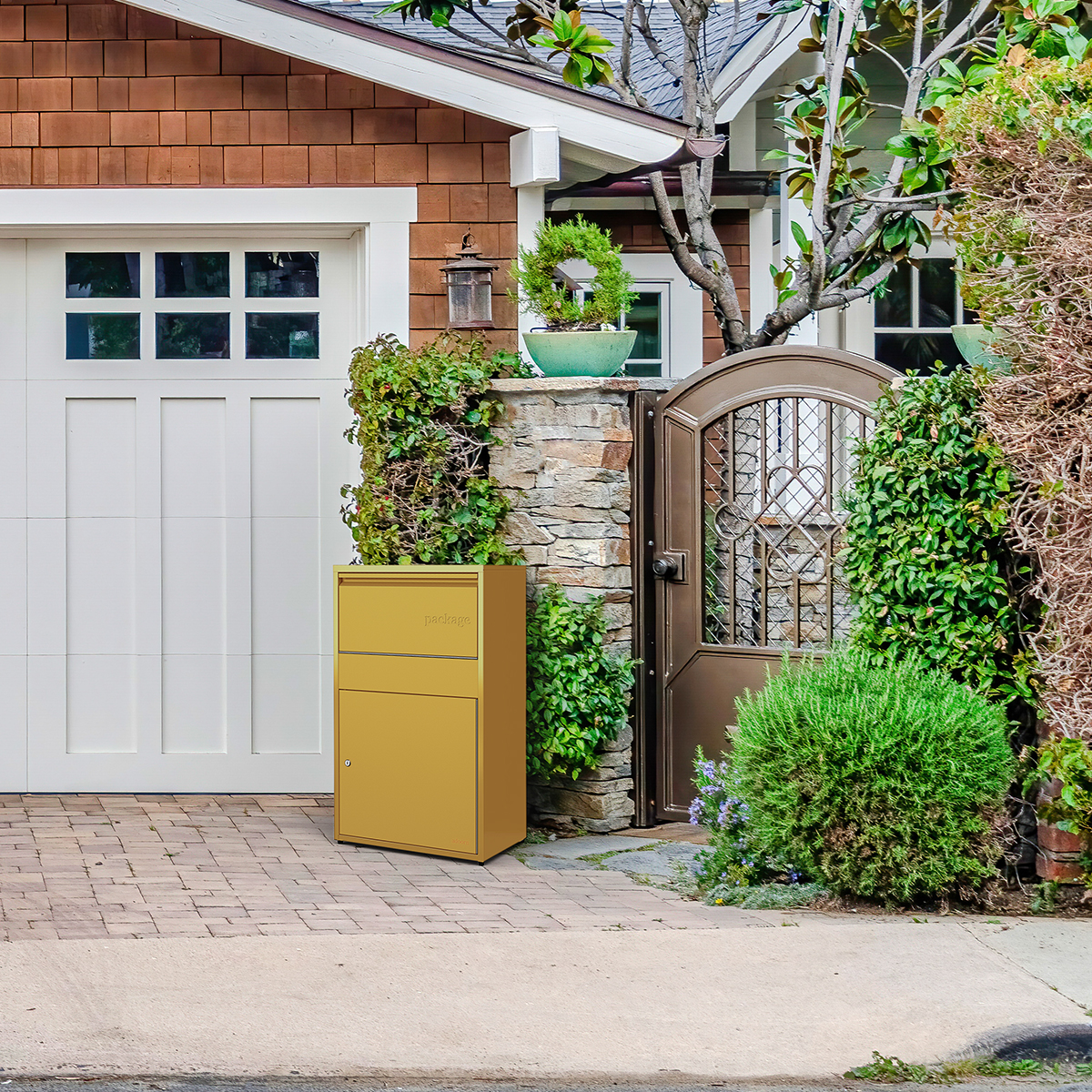 A lot of homeowners have worked with their local delivery people to put packages in less conspicuous places than the front porch. After all, statistics show that parcels in view or closer to the street are more apt to be stolen. Also, whether it is just the width of the door and how it opens, the position of stairs or banisters, or the placement of plants and furniture, some main entry ways just don't have the room for any additional items.
Because of this, the side of the house makes for a practical place to install a package delivery box. This is especially convenient if the house has a side door that acts as a commonly used entryway so packages are handily located for easy access.
This location can be even more beneficial for the homeowner if the box is positioned beside the garage, a frequent access point to most homes and also a spot where delivery drivers often place packages so that the homeowner doesn't miss them.

Driveway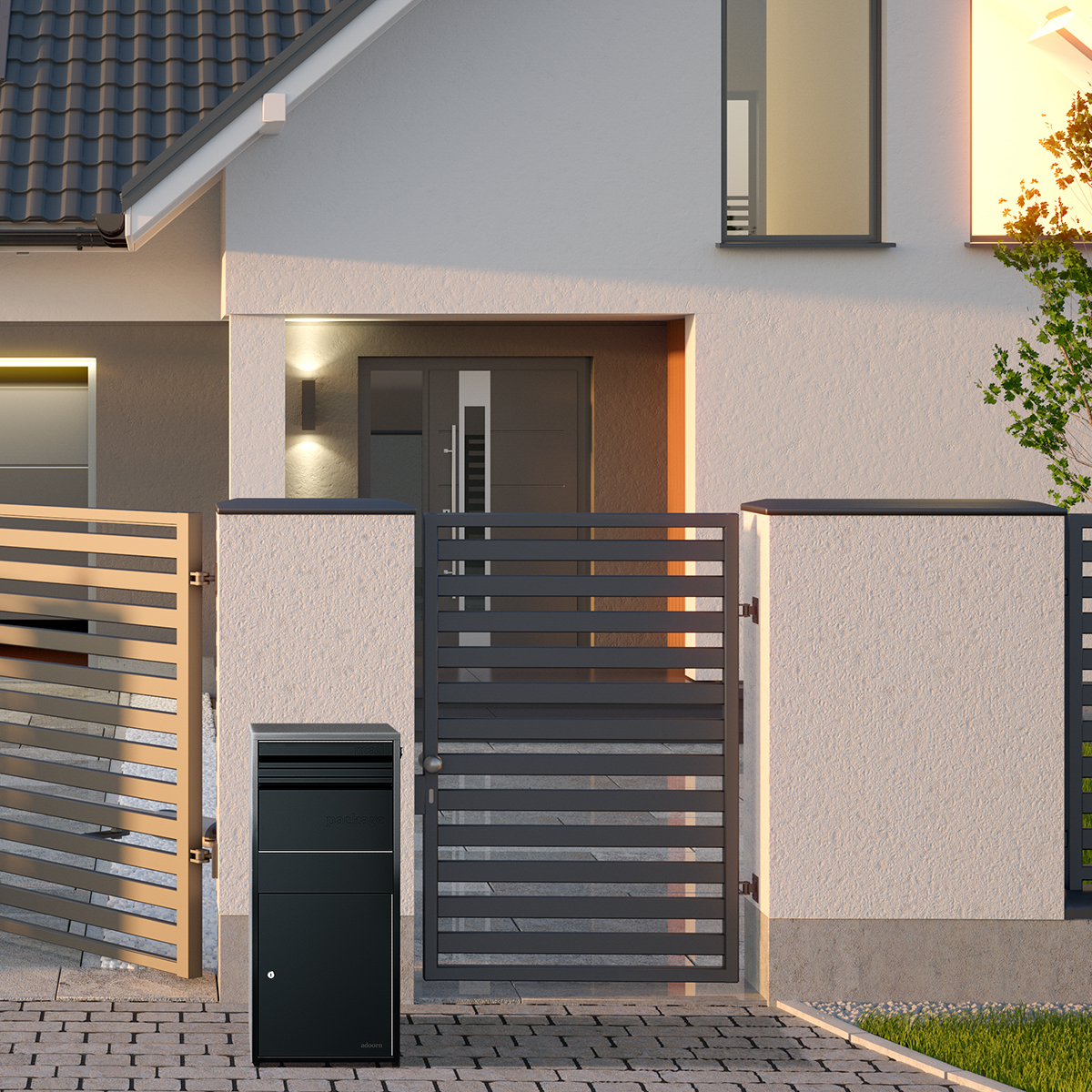 Rural residences aren't exempt from package theft. On the contrary, being remote can make a home a target because witnesses to crimes are few and far between.
Another drawback if a house is far from the road is that delivery or mail carriers will leave a package at the intersection of a driveway and the road instead of bringing it all the way to the front door. Placing a lockable package box at the end of a driveway is a great way to combat this issue.
Plus, having your drop off location by the road also means you'll get deliveries on those snowy days when the driveway has yet to be plowed, which can be a big deterrent for delivery truck drivers.
Next to the Mailbox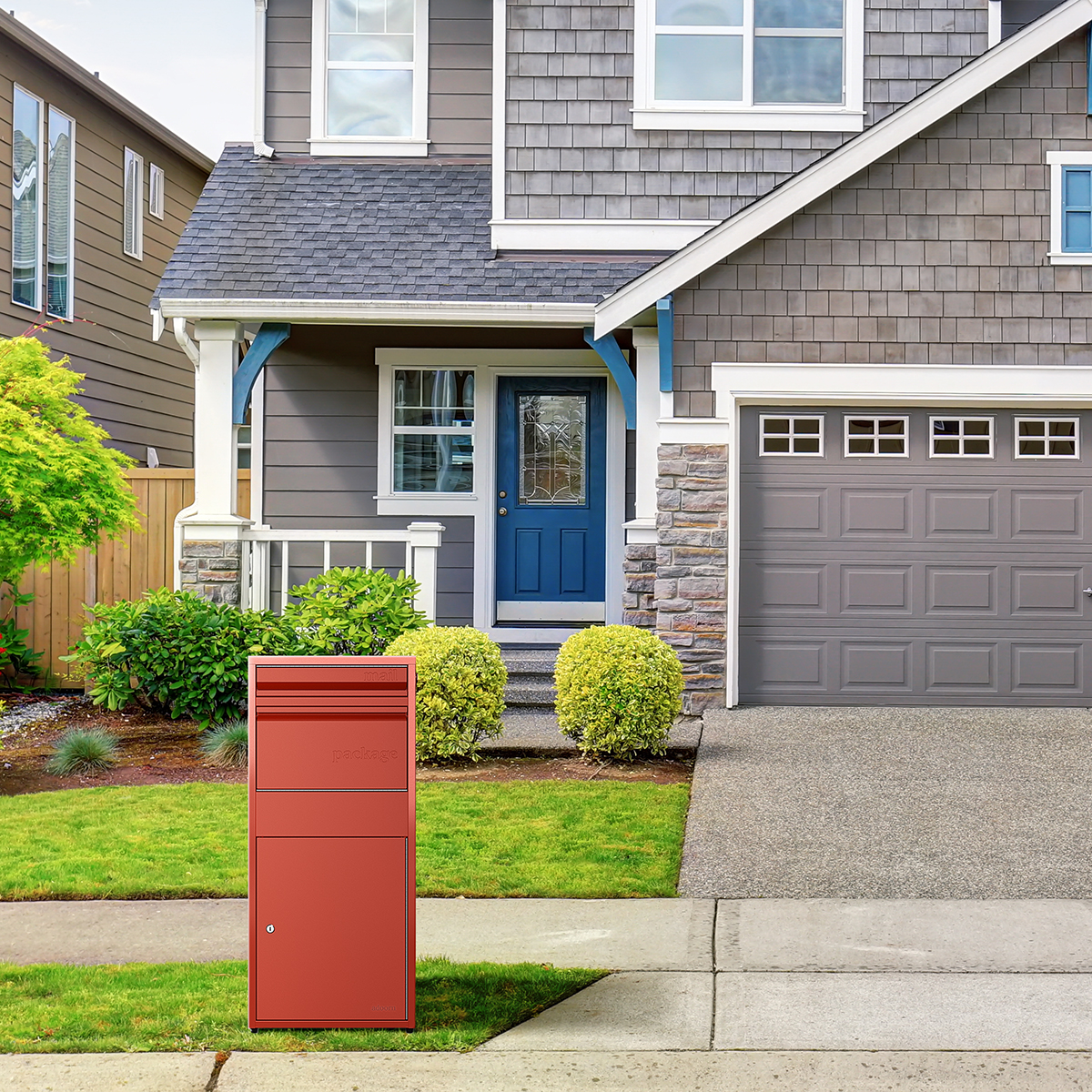 In a previous blog, we already discussed the limitations of traditional mailboxes. The fact is with the high-volume of parcels moving through the country's delivery networks having a 9x19 inch receptacle to receive your online shopping orders and grocery deliveries just isn't going to cut it.
Placing your delivery lockbox by the mailbox or using the Adoorn Modern Mailbox makes sense considering the substantial number of retailers (like Amazon) that use the United States Postal Service (USPS) as their primary shipping partner.
This placement would certainly expedite getting your package from USPS, who have been known to not deliver a package if it won't fit in a mailbox; instead taking it back to the sorting facility where you have to pick it up.
At an Apartment
If you rent or have limited space, finding the right spot for your delivery lock box is key to getting the most out of it. Placement by your front door is optimal if packages are placed on your doorstep but permanent fixtures in hallways can be considered a hazard in some locations and therefore not allowed.
In many multi-tenant locations, mail is deposited in a common area by a main entrance. This also makes for a great location for the delivery box as it is convenient for all deliveries, including in-person food drop offs. Plus, since many delivery people won't go seeking out individual apartments or buzzing you to get a signature, this ensures your package is safely stored while waiting for you in this busy area.
Another option is an outdoor location, usually situated by the main entrance to the building or housing complex. This might be the preference of the property owner because it keeps the interior clear. No matter where you place it, if you live in a dwelling with additional residents, a parcel lock box can act like a doorman or concierge looking out for your safety and property.
At a Business
Homes aren't the only places where a delivery box can be installed. For businesses, these secure package receptacles can do double duty. First, they offer a great way to securely receive shipments sent to your place of business. Secondly, they can be used as pick up locations for contact-less purchases.
The package delivery box works for all kinds of business locations. For those situated in areas its pleasing appearance makes it perfect for placing outside by the front door or even inside without disturbing the design and feel of your establishment that you've worked so hard to cultivate. The reprogrammable lock also makes great for customer-facing applications as it can be used over and over again to protect customer purchases while protecting customers from in-store contact.

Lockable, Weatherproof Mailboxes & Package Boxes
Compare Models Now