What is the Best Lockable Package Box?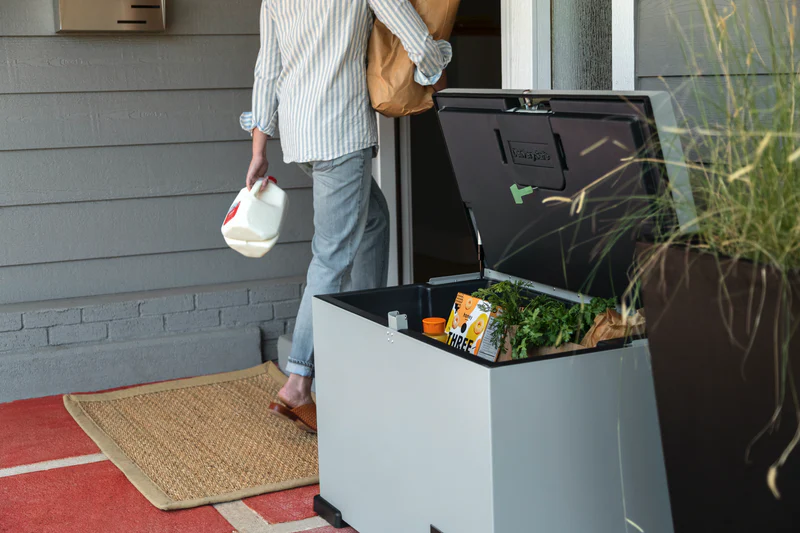 Three billion. That's the number of packages that moved through the United States' shipping channels during the 2020 holiday season. That astronomical number points to the country's rapid rise of package delivery.
Rising right along with it is package theft with 35.5 million Americans victims of the crime in the last year alone. Together these two statistics lead us to the question of how to receive and protect the products getting brought to our homes?
The best solution to this problem and many others related to the growing home delivery trend is a lockable package box. But since these products are relatively new to the market it can be hard to figure out what to look for when buying one.
Here are 9 key features or requirements for these newly indispensable additions to any residence:
Safety First
It goes without say a great lockable package box should be lockable. And we don't mean replacing that old wooden box you have sitting on your porch with a cooler with a lid that snaps closed.
The lock should be commercial grade to provide heavy duty security and so that it can't be hacked or opened with any sort of instrument or through sheer force. Furthermore, for the most flexibility and convenience, the lock should be easily reprogrammable so that the owner can control who has access to the package box.  Also, it should probably allow for multiple users to have their own access code.
Also to note: These boxes lock from the inside as well as the outside so make sure they also have safety features on the inside to help aid anyone who gets accidentally locked inside.
Food Friendly
Even as the pandemic starts to subside, online sales and grocery delivery numbers continue to rise. So if getting food brought to one's house is a trend that is here to stay, it is important to have a package delivery box suited to storing vegetables, meats and foods that can spoil easily.
A good place to start is with boxes that have an insulated liner designed to keep perishables fresh while in storage. Another bonus is a parcel box that is designed to cool through ice packs or refrigeration so the unit can be kept extra cool. This can be particularly helpful on hot days when groceries can't be unloaded until several hours after they've been delivered.
Compliant with All Carriers
Amazon, the U.S. Postal Service, FedEx, and UPS all offer some form of pick up or delivery locker service. These are typically in front of a large grocery store, a big box store, or perhaps a mall.
The issue with these solutions is they don't work for all carriers and vendors. So you might have to make two or three stops to get all your packages. On the other hand, if your package box is located at your home, you can get the convenience of having all your deliveries waiting securely for you on your porch when you get there.
Simplicity
Perhaps one of the more overlooked aspects of a product is it's ease-of-use. If it can be easily used, it won't be! This goes for the owner and the delivery drivers. Some lockable package boxes have app integrations that are hard to setup and use--and they always require the app to utilize. Others are more decorative by design but not easy to open and close. Some need to be plugged in to use.
The best lockable package box should be super easy to lock and unlock, keep cool, anchor down, simple to place packages in and get them out, easy to instruct delivery drivers on how to use, and a no-brainer to allow multiple people to use it.
The Right Size
More packages means just that -- more packages. Your parcel mailbox should be able to to handle the influx of daily deliveries to your house so that it has room to store a day or two of shipments. Also, as package deliveries have moved past a pair of shoes or a pair of pants to include household goods, electronics and meal delivery kits, the delivered boxes are getting bigger.
Make sure your large package mailbox has room for these sizable parcels and opens horizontally so that longer and wider packages fit, as well. You can see by some of the conversations on Twitter that there are several people who have had issues with this.
Withstands Bad Weather
As stated, porch pirates are a big reason to have a lockable package box, but they aren't the only reason. Sun, heat, rain, snow, sleet, wind, cold. These are equally important issues to take into consideration when it comes to getting a parcel box for your home. Depending on what you've ordered, any or all of these elements can ruin a delivery or simply blow or wash it away. so making sure your lockbox is weather-resistant is key.
Stays in Place
We've talked about people stealing your packages and the weather ruining it -- to further combat these negative aspects of home delivery a package box should also be heavy so that it doesn't move or can't be moved by someone else.
Taking this one step further, any stalwart package lock box should feature an anchor system that allows it to be attached to your property, be it a wooden porch or concrete landing.
Curb Appeal
Security is job one when it comes to a package box, but that doesn't mean that's the only determination when picking one. Usually these units sit on the front porch or by the main entryway which is also the first thing that most people see or come to when they visit a house. Because of that you want anything in such a prominent location to be aesthetically pleasing. This means clean lines, a prototypical shape and a color that doesn't clash with its surroundings.
Built to Last
It looks like the home delivery trend is not going anywhere, so the same should be said for your delivery box. Make sure the product you choose is made with durable elements such as stainless steel hinges and heavy steel construction.
To protect the exterior, rust and scratch resistant paint will keep it in top shape and looking its best despite heavy use. Furthermore, raised feet that keep it off the ground will keep it from rotting or rusting, which in terms of protecting what you've purchased will make sure it keeps your packages dry and safe for years to come.
Best Example -- Adoorn
The best example of a lockable package box that checks all of the boxes (pun intended) is Adoorn. Not only does it cover each of the 9 features above, it has been widely adopted by home and business owners around the U.S., and been given a 4.7 star rating by customers. There are a few lockable boxes that have some of these features listed here, but truly the only one that has all of them is Adoorn.
Lockable, Weatherproof Mailboxes & Package Boxes
Compare Models Now