9 Tips for the Savvy Online Shopper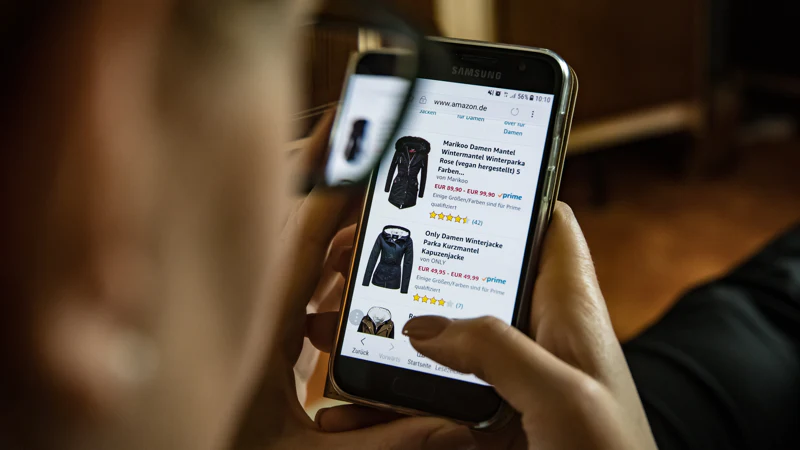 Americans spent $78 billion online in March 2021, according to Adobe Analytics. That's a 49% increase from the same time last year! And Adobe predicts $4.2 trillion will be spent worldwide via ecommerce channels this year.
With all this money changing hands digitally, what are savvy shoppers doing to take full advantage of online shopping? Look below and see:
1. Shop Small
Amazon has a little over 40% of all ecommerce sales in the U.S., while Walmart comes in a distant second at around 7% share. No doubt, these market leaders offer lower prices than almost any other seller, but cheaper doesn't always mean better.
Buying from large retailers usually means the customer is getting the same exact product that millions of other people are getting. This isn't the way to go if you are looking for something as unique as you are -- which is what a lot of shoppers are doing these days.
The demand for boutique alternatives is clearly high. Just look at the growth of Shopify, which is where thousands of smaller online stores often start. There you'll see many one-product shops, local retailers, and several hand-crafted options.
Because the internet allows business owners to hang up their own shingle with relatively low overhead, millions of little mom and pop shops have popped online offering great products that are different from anything you'll find in a big box store.
So, consider shopping small for more unique, and often better quality, items.
2. Get Groceries Delivered
Grocery shopping online is expected to grow 21.5% by 2025. It only makes sense, as there is a lot of time and hassle involved in going to the store weekly to stock up on food. Ordering groceries online makes life a lot simpler.
From local stores to national retailers to specialty subscriptions to meal kits, just about any kind of food can be brought to someone's door. Savvy shoppers who know how to work their memberships and avoid delivery charges can use this method to their advantage to make their life easy.

3. Find Nearby Nourishment
Shopping local is a trend that has come and gone over the last few decades and the pandemic of 2020 brought it back with a vengeance as consumers tried to focus their spending in their immediate areas to help their neighbors' businesses and to keep alive their favorite shops, restaurants, etc.
Depending where you live you can find a variety of items locally. Buying meat and dairy locally is a great option. Meat raised at local, smaller farms is probably going to be more sustainably raised and fresher -- which usually means it tastes better too.
Dairy that's local again will probably be less likely to be industrially processed so again, all things being equal, it will be fresher, tastier and healthier. Check out farmhousedelivery.com or similar app for great local meat and dairy options.
Also, buying locally is better for the environment because there is less travel required to get it to market. Plus, getting your produce from neighborhood farms helps the growers stay in business, which feeds their families and adds to the diversity of food available that goes beyond the stock factory farmed food coming out of BigAg and giant meat suppliers.
4. Consider Timing
Everyone knows about the Black Friday deals. Oh yeah, and Cyber Monday and then the after Christmas sales. Then there's President's Day and so on and so forth. Waiting for a sale isn't hard if you just look at a calendar and find the nearest holiday.
There's also other ways to look for cost savings. Female-focused brands might have a big sale for Mother's Day, manlier retailers might slash prices around Father's Day. Some brands have their own yearly sales for special occasions, like footwear maker Allen Edmonds has an anniversary sale every April during which their expensive men's dress shoes can be had at a much-reduced rate.
Sometimes a customer can create their own sale by putting a product in their cart and then not buying. This action might trigger an abandoned cart email reminding the potential buyer that there is an item in their cart they have not yet purchased. Once and a while, if you leave the product in the cart for long enough, the retailer will offer it at a reduced rate. It doesn't always happen this way but it can be worth a try if you're on the fence about the purchase.
5. Compare Product Prices and Reviews
Remember the days when seeing what store had the lowest price meant schlepping all over town pulling price tags till you found which store you wanted to buy at? Thank goodness for the Internet because all that's needed now is the click of a few buttons and the cost of an item at multiple locations can be assessed in a matter of seconds.
Another key element of this approach is that many online shoppers leave a review of their purchase or post it on social media to help other consumers figure out if the product is right for them. Along with product to product comparisons, there are also brand to brand comparisons which can tell a would-be spender if it is worth paying up for a name brand product or if you'll get the same quality with a lesser-known company's item.
One thing to keep in mind when it comes to product opinions is there are a lot of fake reviews online. They can be paid advertisements, planted comments or reviews given by "shoppers" who were gifted a product for free to ensure a positive assessment. Do a little digging and use multiple sites to suss these out before taking what you're reading as automatically true.
6. Cash in on Coupons
Just like comparison shopping, coupon clipping used to be a pain -- carrying around a folder at the store and flipping through it till the right coupon was found -- and when it is, it inevitably is expired. Enter the Internet again. A quick Google search can turn up a bunch of coupon codes just like snapping your fingers. Of course, many of these will be expired too, but it's worth a try.
Many online retailers will give a coupon to those that sign up for their emails and those emails will inevitably contain more deals over time. For those that are hardcore deal finders there are countless sites that can be joined (for a fee usually) that provide exclusive savings for members.
Another option is using web add-ons like Honey and Rakuten, which automatically apply coupons at checkout and also provide cash back on purchases at affiliated retailers to save you more money.
7. Subscribe Alive
According to industry analysis, the worldwide e-commerce subscription market is poised to go from $13 billion in 2018 to an estimated $478 billion in 2025. The pandemic helped this bounce since during that time 22% of companies reported subscribers acquisition rates rising.
Both these statistics make perfect sense as you can get just about anything you want via a digital-controlled subscription. We're talking about food, drinks, razors, makeup, deodorant, clothing, books, pet products, diapers, crafts, fitness classes and tons of other products and services.
The appeal of many of these deliveries -- which can be yearly or come weekly, monthly, quarterly, etc. -- is that they are curated to the customer's fashion sense, size, location, palate, age, and hobbies. Because of that it is like getting a personal present in the mail.
8. Know Your Return Policies
For all the benefits of online shopping, there's definitely some drawbacks including not being able to see up close, touch, smell, or try on the product that is being purchased. This means that there's a chance that, when it arrives, it's just not what the consumer thought it would be or what they really want.
When this happens the dreaded return process begins. We're being a little dramatic here as many companies make the sending back a package fairly easy, but with others it can be an ordeal. This could entail an email (or even worse a phone call) to the company and various hoops to jump through to get your money back or a replacement item sent.
Being able to return the package is the best case scenario because some internet retailers have an "all sales final" policy that can stick the customer with a product they don't want. To make sure you're protected, check out the return policy with every company you do business with -- this way you'll know whether it is worth guessing your size on that new pair of sneakers.
9. Protect your Deliveries
One of the other negatives of online shopping -- probably the biggest -- is package theft. This crime is prevalent across the entire United States and is growing right in line with the rise in online sales.
As the pandemic lessens in severity, many people will be going back to work which will give porch pirates even more opportunities to take stuff that doesn't belong to them off of doorsteps across the country. Even if you are one of those people who think just because you work remotely that you are out of the woods, be forewarned that there are plenty of reports of folks having a package from their house while they were at home.
The best solution for this crime is a lockable package box like Adoorn. These problem-solvers receive the package for the homeowner and keep it under and key until the time comes for the recipient to retrieve it. Designed to be curb-appeal friendly as well as weatherproof.

Lockable, Weatherproof Mailboxes & Package Boxes
Compare Models Now